Pauline Boty: a forgotten icon of the British Pop Art movement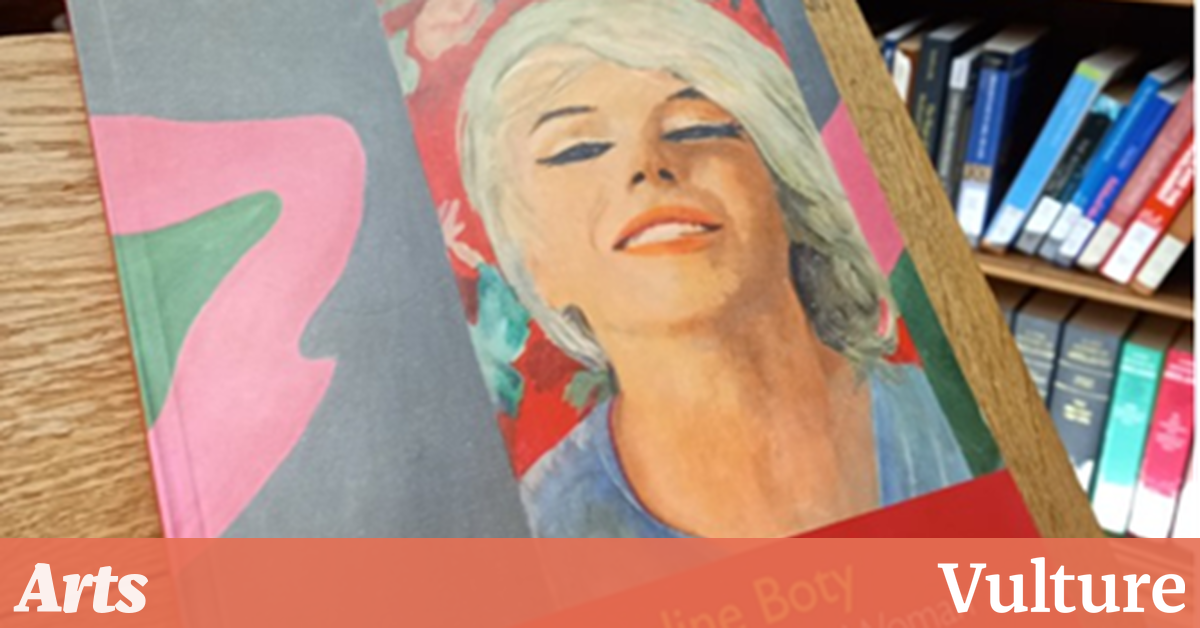 In the 1966 movie Alfie, the main character played by Michael Caine kisses a smiling blonde woman in a laundromat. Although she's only onscreen for a few minutes, her joyous exuberance shines through. The woman in question is Pauline Boty.
Born in 1938, Boty was a founding member of the British Pop Art movement and one of the few female painters involved. Despite its low admission rates for women, Boty studied at the Royal College of Art and befriended other emerging talents like Peter Blake and David Hockney. The impact of Boty was very important, and yet, today, few people know her. She was often defined by two factors: her haunting beauty and her tragic death from cancer at the age of twenty-eight. From today's point of view, it appears as the perfect incarnation of the swinging sixties.
"Boty's work resists easy explanation – complexity is always central to it"
One of my favorite Boty works is called The only blonde the world, (1963), depicting Marilyn Monroe. In the oil painting, the abstract patterned green seems to slide to reveal Marilyn, striding forward with determined movement. She is instantly recognizable with her lively smile and peroxide blonde hair. As our eyes descend, the brushstrokes become messier and more frantic. Marilyn appears to be moving in the image, rocking her hips from side to side as she walks, the tassels of her silver dress swinging. Suddenly, the green on both sides seems a little oppressive. Does he slip away from Marilyn or towards her? It may be the lens of a camera, framing Monroe before taking the picture. Boty felt a great affinity for Monroe and was devastated by her death. The painting exists as a fitting posthumous homage, capturing the liveliness, which was Monroe's call, while remaining fixed at a distance. We finally cannot access Marilyn. Boty's work resists easy explanation – complexity is always central to it. They celebrate but also criticize.
Like Monroe, Boty struggled to be completely defined by her looks. This is summarized by a 1962 article about him, which Lily: "Actresses often have very small brains. Painters often have big beards. Imagine an intelligent actress who is also a painter and a blonde and you have Pauline Boty. Boty pushed back the fixed and narrow parameters of her time, subverting expectations of what female artists could do. Her work was provocative in its emphasis on sexuality, use of humorous imagery and bright colors, although these elements were dismissed as "feminine". Through her art, Boty rendered autonomy to the female body, often posing with her paintings. In one picture, the canvas replaces his body, only Boty's head and feet are visible. Despite her efforts, the endless stereotypes took their toll, contributing to her experiences of depression later in life. Ironically, her focus on the female body was also overlooked and misunderstood by some feminist art historians in the 1970s, who criticized her art for portraying women in a "sexualized" way.
"After his death, his paintings were collected, stored and quickly forgotten"
Boty was fascinated by both the high and low cultures of news, pop and film, and how they were intertwined. Speaking on the subject, she said"Movie stars are the gods and goddesses of the 20th century. People need them and the myths that surround them because their own lives are enriched by them. Pop art colors these myths.
For all the glamor and excitement, the '60s were undoubtedly a time of conflict and inequality. This became central to Boty's later work, also influenced by his movement within militant circles. For example, in it's a man's world Boty creates a collage of men including politicians, scientists, great thinkers and icons from the worlds of music and sport. Around the outside of the painting are images of violence – a fighter jet, the assassination of JFK. In the center is a red rose, a recurring motif in Boty's work, a symbol of female desire and sexuality. Yet here the rose has been cropped to fit in a square. The previously irrepressible symbol of femininity has an added vulnerability. Pressures to conform to a male world begin to appear.
Boty's work has recently seen greater recognition, with solo retrospective exhibitions and a published biography. After his death, his paintings were collected, stored and quickly forgotten, left to decay in a barn in Kent belonging to one of his brothers. These were rediscovered in the 1990s by David Alan Mellor, Professor of Art at the University of Sussex. However, the location of three of Boty's major works including Scandal 63 remain unknown. In the 1966 film Alfie, Boty's role as the laundress was uncredited. To this day, I would say his role in the art world is uncredited.
University is the independent newspaper of the University of Cambridge, established in its present form in 1947. In order to maintain our editorial independence, our print newspaper and news website receive no funding from the University of Cambridge or its colleges constituents.
We are therefore almost entirely dependent on advertising for funding and expect to have a few difficult months and years ahead.
Despite this situation, we will be looking for inventive ways to seek to serve our readership with digital content and of course in print!
Therefore, we ask our readers, if they wish, to donate from as little as £1, to help cover our running costs. Thank you very much, we hope you can help us!