Melfort Art Council's most recent exhibition sheds light on societal issues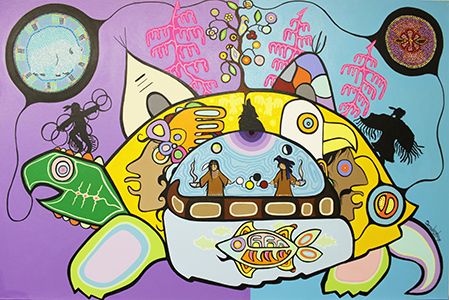 Content of the article
Some might find Melfort's latest art exhibition provocative.
Content of the article
This is according to the president of the arts council, Joanne Bolen. The paintings, created by northern Saskatchewan artist Donna Langhorne, aim to examine how the challenges facing Indigenous peoples today can be identified and artistically approached with reference to traditional teachings and concepts.
"It's a very beautiful show, but it's also very heartbreaking," Bolen said.
"Some people may find it a little offensive in some ways when they start looking at it, and I think that's a good thing because it shows what churches, especially Roman Catholic churches, have been doing. First Nations (people). "
Langhorne began the project by recognizing that the lived experiences of Indigenous peoples under colonial rule resulted in a set of "common truths". She then wondered if they could be confronted with another Indigenous cultural perspective.
The result was a project of 20 paintings. Its overall approach was to build on the five-class structure within the Anishinaabe clan structure.
using four representative clans per class, to confront 20 common truths having an impact on indigenous peoples.
"Our historical experience affirms that the plight of indigenous communities today is rooted in aggressive and hostile actions by the settler community, as enshrined in law and state policy," said Langhorne said.
"It underscored the importance of the painful but necessary truth-telling process of the Truth and Reconciliation Commission (TRC) to expose and shed light on these issues."
This exhibition presents twenty paintings hung in five groups of four.
Since 2015, Langhorne has specialized in the use of the Woodlands style innovated by the famous Anishinaabe painter Norval Morrisseau. This, she said, was encouraged by elders and recognized practitioners of the Woodlands movement.
"I was drawn to this movement," Langhorne said. "And my voice is totally authentic and endorsed by this community of artists."
The exhibition runs through January 23 at the Sherven-Smith Art Gallery at the Kerry Vickar Center.